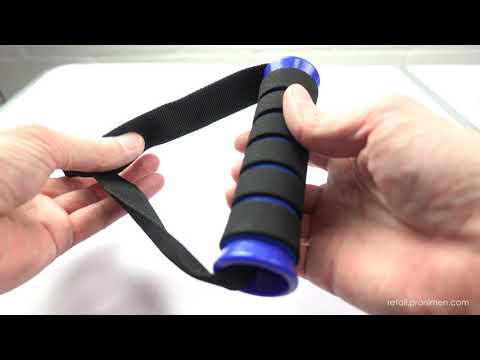 Replacement Workout Handles For Home Fitness - YouTube
Video will open in a new window
Using the eBay App? Paste link into a browser window:
REPLACEMENT GYM/HOME FITNESS WORKOUT HAND GRIPS / HANDLES

Made from harden rubber and thikened nylon webbing, orginallly used as luggage straps, yet nowadays these tried and tested handles are commonly used within the gym and fitness sector.
weighing 120g they are both light and durable and irrespective of there smaller circumfrance they aree very comfortable to hold. 
Ideal for usage with the 11 piece latex tube set, or with other latex resistance bands, these grips offer comfort at an affordable price. Unlike metal handles these rubber do not knock, scratch or damage furniture.
In terms of poundage - Please note they for home fitness use and can comfortably pick up 20-30KGS, yet if you require beyond that, please consider the handles below.
UPGRADED HEAVY DUTY HAND GRIPS / HANDLES 
For anyone who has used resistance tubes (i.e. we have over 10 years experience with their daily usage), yet those who have similar previous experience will understand that the standard, normal, usual handles are small and uncomfortable, and can break within a short time frame. As a general rule, the cross sectional diameter of a standard hand grip is approximately 2.5CM, with a width of 12CM, with a weight of 28 grams. Whereas the UPGRADED HEAVY DUTY hand grips are approximately 4CM in diameter (50% thicker), with a width of 14.5CM. and an overall weight of 62 grams (double material strength) please see pictures for size comparisons. In short, the hand grips have been totally redesigned replacing the old hand-grips with new stronger, thicker, wider, and longer grips that are at least 2 x 3 times more durable and a lot more comfortable.


Final words on the hand-grips - The feeling in the hand is lovely, in comparison to the older budget version, "the new heavy duty grip/squeeze is solid", making training much more pleasant and a lot more comfortable. They're also lighter, which for those who has used metal handgrips for strength alone, will find these a pleasant surprise. Again, I use them myself, and aside from being light and strong, they are good for travelling or storage. Which is why I made them this way.