JUST ARRIVED - Same day dispatch - Tracked
LIMITED CUSTOM SETS: "SPEED-FLEX"



11 PIECE HEAVY DUTY SETS -
1 - M5 Carabiners
2 - Un-labelled Ends  
3 - Treble Upgraded Ankle Straps 62G (amazingly comfortable). These came 100% correct - You, they are indeed the nicest ankle straps for 11 piece sets.
The sets are 125LBS NATURAL LATEX, same beautiful long lasting coloured tubes, same heavy duty blue and black non sweat handles, same double stitched ends, same travel bag as the £33.50 SETS - And these came with treble-upgraded ankle pads from 21grams to 62 grams (this is the main custom upgrade - they are excellent and very comfortable).

These sets are not like others, irrespective of the unlabelled ends (which most other sets don't have either) these sets have the upgraded handles, tubes and ankle straps - In that respect, they are a bargain. If you don't care about labelled ends, instead prefer colours (which works for us) and want the upgrades, then you'd be hard pushed to find a better set than these.




SPECIFICATION
5 x LATEX resistance bands - Yellow (15 lbs), Red (20lbs), Blue (25 lbs), Green (30 lbs), Black (35 lbs) - note: These tubes come unlabelled (on purpose for less distraction and faster workouts)
10 x M5 Stainless Steel Carabiners
2 x Heavy Duty non-sweat comfortable handles
2 x Treble padded 62G ankle straps
1 x Door anchor
1 x Carry bag


---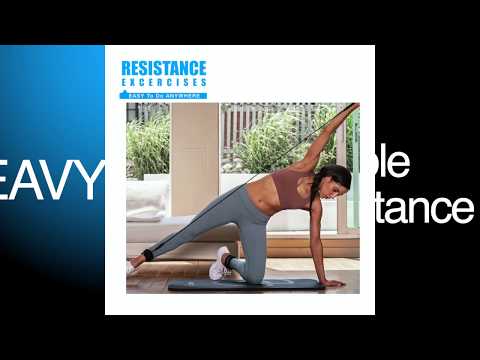 11 Piece Heavy Duty Resistance Band Set - YouTube

Video will open in a new window
Using the eBay App? Paste link into a browser window:


The images in the advertisement are real and of the actual products shot during January & May 2020 ©Pronimen.  
PLEASE NOTE: THESE RESISTANCE TUBE SETS, AND INDIVIDUAL ITEMS ARE NOT THE USUAL ECONOMY/BUDGET PRODUCTS. While pictures from various sellers may look similar, there are real inherent differences. Please check out the reviews, (( we work hard to make good product )). Also you may now be interested in visiting the website, it's small but up and coming, with a bit more detail than here on Ebay. To see a full page and description please Go to Pronimen.com/retail

The PRO sets have the following upgrades
1 - Upgraded resistance tubes (stronger, safer, more flexible and less deterioration over time) - The cheaper ones often snap at the ends
2 - Re-designed hand-grips (stronger, safer and much more comfortable) - The cheaper ones are very small and wimpy
3 - Re-designed ankle straps (stronger, safer and much more comfortable) - The cheaper ones create skin sores
4 - Upgraded hooks M5 304 Stainless Steel and M6 304 Stainless Steel (stronger, safer, longer-lasting) - The cheaper hollow steel, or spring ones twist and break

AS A COMPANY, WE HAVE PHYSICALLY ADDED TO THE DESIGN AND MANUFACTURE OURSELVES, UPGRADING THE TUBES, ANKLE STRAPS, CARABINERS, AND MOST IMPORTANT OF ALL, DOUBLE STRENGTH UPGRADED HAND-GRIPS.

These are "Heavy Duty Resistance Tube Sets" for Power Training, Home Gym, Gym Fitness Exercise Yoga Workouts & Pilates
PRO VERSIONS - MATERIAL: 125LBS = Natural Latex - Outstanding set more flexible, stronger and lasts longer than TPE
Please note: For personal preferences and replacements, all items are sold individually.


WHAT IS THE DIFFERENCE BETWEEN LATEX & TPE?
Latex are made from 100% natural latex. Bands that are made from 100% latex material tend to be more durable than bands that are made from a combination of latex and thermoplastic elastomer (TPE), which are less durable.
Latex bands are snap, stretch and sweat resistant. Other bands start to stretch and crack after a while and that's why heavy duty bands are offered as an alternative, i.e. so you can focus on your workout instead of worrying about the bands snapping or not.
The second factor albeit it's a personal one - Latex bands are much smoother and nicer to touch, they are less prone to sticking together, and more flexible when storing.



UPGRADED RESISTANCE TUBES (Latex)
All 5 training tubes = 1 x Black, 1 x Blue, 1 x Red, 1 x Green, 1 x Yellow are all upgraded versions: i.e. stronger thicker latex, with heavily stitched ends to eliminate the potential of snapping during stretching.   UPGRADED HEAVY DUTY HANDLES (

please note when buying individual items EBay will charge a standard delivery of £3.90 - We will refund approximately £1.50 of that as we cannot change the shipping

)
For anyone who has used resistance tubes (i.e. we have over 10 years experience with their daily usage), yet those who have similar previous experience will understand that the standard, normal, usual handles are small and uncomfortable, and can break within a short time frame. As a general rule, the cross sectional diameter of a standard hand grip is approximately 2.5CM, with a width of 12CM, with a weight of 28 grams. Whereas the UPGRADED HEAVY DUTY hand grips are approximately 4CM in diameter (50% thicker), with a width of 14.5CM. and an overall weight of 62 grams (double material strength) please see pictures for size comparisons.
In short, the hand grips have been totally redesigned replacing the old hand-grips with new stronger, thicker, wider, and longer grips that are at least 2 x 3 times more durable and a lot more comfortable.


Final words on the hand-grips - The feeling in the hand is lovely, in comparison to the older budget version, "the new heavy duty grip/squeeze is solid", making training much more pleasant and a lot more comfortable. They're also lighter, which for those who has used metal handgrips for strength alone, will find these a pleasant surprise. Again, I use them myself, and aside from being light and strong, they are good for travelling or storage. Which is why I made them this way.    
         

UPGRADED ANKLE STRAPS (for the new custom speed-flex sets please read above - first description)
Standard ankle straps are normally without extra padding, the fixing hook is small 3CM width centred in the middle, and the width strap is 3.8CM of the which in real world use creates ankle chaffing and burn like sores, eventually one may stop using them, (i.e. the reason we re-designed and upgraded them).  The upgraded heavy duty ankle straps have been totally redesigned from ground up (they are not the same as the old ones). The new upgraded straps are 42 Grams vs the old 21 Gram, and now the Speed Flex Super Heavy Duty 62 Gram version they are heavily padded for skin and bone comfort as well as protection with a heavy duty fixing hook of 6CM (2 X bigger and stronger) which is now located at the end allowing for better protection and more comfort. The overall width is of new strap is 5CM with the Velcro placed to give ample flexibility for sizing.  




UPGRADED CARABINER HOOKS

 (for the new custom speed-flex sets please read above - first description)
Standard hooks are generally made from hollow steel which can and have twisted or "broke" under normal training. Upgraded versions are made from stainless steel and are more durable, yet there lies another issue, as over the years even the stainless steel ones have become graded. Nowadays most fitness sets use number 5 hollow steel or spring. We use (M5) and (M6) 304 Stainless Steel for strength and we do this to reduce and eliminate any possibility of a potential breakage (which if that were to happen, that is,,,, if you've ever seen one break, and have been on the other end of it,,, it can be both damaging to the person, and the environment/furniture around them).


One review stated "the carabiners are not stainless steel"
I'm sure you will understand that while the review a positve 5 star, we addressed the comment -
The carabiners used in these kits are 304 Stainless Steel - 304 stainless steel is the most versatile and widely used austenitic stainless steel in the world, due to its corrosion resistance.

Grade 304 stainless steel is generally regarded as the most common austenitic stainless steel. It contains high nickel content that is typically between 8 and 10.5 percent by weight and a high amount of chromium at approximately 18 to 20 percent by weight. Other major alloying elements include manganese, silicon, and carbon. The remainder of the chemical composition is primarily iron.

We have gone to great lengths, time and energy to produce the heavy duty sets which we trust others will derive much benefit from. To produce the heavy duty 304 stainless steel carabiners isn't as easy as one might think, as this process is time consuming, much more expensive than standard lightweight stainless, and much more expensive than standard steel.


DAILY USAGE
For anyone planning to train at home, near or around furniture, then tube snaps, hand-grip breaks, and carabiner breaks are a key factor when choosing the right set. Not trying to scare you, it's from 5-6 years experience. 
If you are planning to perform light short term training in an open area where breaks, snaps and comfort are not important, then a budget set may well be the right choice for you. If on the other hand you plan to take up regular resistance usage, where your furniture and health matters, and you plan to use them year in year out, then consider using a heavy duty version.


WHO CAN USE THEM?
Resistance bands/tubes are for all ages, all types of bodies, for use at home, gym, outside in at a park, even traveling for business, holiday, or during a hotel stay, etc. The really nice thing about resistance bands and tubes is that they fairly light and can be transported and stored anywhere. They can give as much pleasure to an individual who practices yoga or stretching, as they do for the serious fitness, or gym athlete.


Opposed to machines or weights, which have their place. Resistance bands and tubes target a wider area, and performing a slightly different job. That is, instead of isolating the muscle, resistance training targets the overall muscle area and surrounding muscle groups making them more suitable for fat burning, toning (quicker definition) even muscle building (by stretching the bands further from the point of security and performing more repetitions).


Some industry experts profess the older one gets the better the result from resistance training, and while on a scientific level that debate continues, on personal level, and as a long term user of both gym weight training and resistance band/tube training the results are obvious.


Resistance band/tube training allows the individual greater flexibility, thus more control, thus higher repetitions than traditional weights.


Higher repetitions attract more oxygen into the surrounding muscles and muscle group thus creating more pump (i.e.better definition). No matter the age, shape or size of a person, beginner or long term user, results happen for all. While I loved the gym and still visit on a few occasions a year, 95% of my own training is using resistance bands. 


Traditional gym weights typically rely of weight to stretch the muscle to a strict form. That is, an arm curl of say 5KG with traditional dumb-bells is usually performed with a degree of righty to a set, (a set means a number of repetitions, normally 10, 12, etc). Yet because resistance bands/tubes absorb energy in a different way it allows the individual to continue training until the entire muscle group is fatigued. While repetitions to fatigue can be achieved using traditional weights, resistance training allows the individual to use less weight and higher repetitions. The end result (along with a nutritional diet) is faster fat burning, and better body definition. (ideal for those who want to lose weight, tone up, and look good).