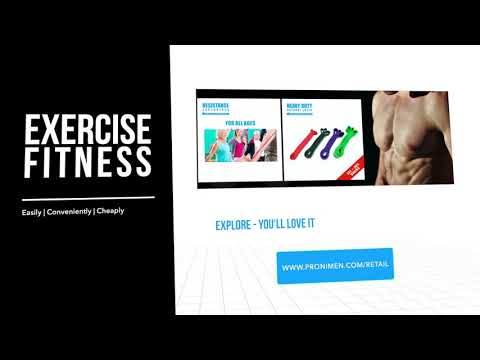 Fitness Exercise Resistance Bands - YouTube
Video will open in a new window
Using the eBay App? Paste link into a browser window:
New Stock Has Arrived - Same Day Dispatch (Royal Mail)
SPECIFICATIONS
Product Type: Looped Resistance Band
Material: Natural Latex
WHAT IS LATEX?
Bands made from 100% latex material tend to be more durable than bands that are made from a combination of latex and thermoplastic elastomer (TPE), which are less durable.
Latex bands are snap, stretch and sweat resistant. Other bands start to stretch and crack after a while and that's why these heavy duty natural latex bands are offered as an alternative, i.e. so you can focus on your workout instead of worrying about whether the bands will snap or not.
The second factor albeit it's a personal one – Latex bands are much smoother and nicer to touch, they are less prone to sticking together, and more flexible when stretching and storing.
DAILY USAGE
For anyone planning to train at home, near or around furniture, then if and when a band snaps, it becomes a key factor when choosing the next set.
If you are planning to perform light short term training in an open area where breaks, snaps and comfort are not too important, then a budget set may well be the right choice for you. If on the other hand you plan to take up regular resistance usage, where your furniture and health matters, and you plan to use them year in, year out, consider using the heavy duty natural latex version.
Resistance Band Choices

Green Resistance Band: Approx 100-120 Lbs

Purple Resistance Band: Approx 50-75 Lbs

Orange Resistance Band: Approx 25-65 Lbs (Please note: Orange and Black are the same strength, size and weight) 

Black Resistance Band: Approx 25-65 Lbs (Please note: Black and Orange are the same strength, size and weight)

Red Resistance Band: Approx 15-35 Lbs

Yellow Resistance Band: Approx 5-15 Lbs
WHO CAN USE THEM?
Resistance bands/tubes are for all ages, all types of bodies, for use at home, gym, outside in at a park, even traveling for business, holiday, or during a hotel stay, etc. The really nice thing about resistance bands and tubes is that they fairly light and can be transported and stored anywhere. They can give as much pleasure to an individual who practices yoga or stretching, as they do for the serious fitness, or gym athlete.
Opposed to machines or weights, resistance bands and tubes target a wider area. That is, instead of isolating the muscle, resistance training targets the overall muscle area and surrounding muscle groups making them more suitable for fat burning, and quicker definition.
Some industry experts profess the older one gets the better the result from resistance training, and while on a scientific level that debate continues, on personal level, and as a long term user of both gym weight training and resistance band/tube training the results are obvious.
Resistance band/tube training allows the individual greater flexibility, thus more control, thus higher repetitions than traditional weights.
Higher repetitions attract more oxygen into the surrounding muscles and muscle group thus creating more pump (i.e.better definition). No matter the age, shape or size of a person, beginner or long term user, results happen for all.

Traditional gym weights typically rely of weight to stretch the muscle to a strict form. That is, an arm curl of say 5KG with traditional dumb-bells is usually performed with a degree of righty to a set, (a set means a number of repetitions, normally 10, 12, etc). Yet because resistance bands/tubes absorb energy in a different way it allows the individual to continue training until the entire muscle group is fatigued. While repetitions to fatigue can be achieved using traditional weights, resistance training allows the individual to use less weight and higher repetitions. The end result (along with a nutritional diet) is faster fat burning, and better body definition. (ideal for those who want to lose weight, tone up, and look good).